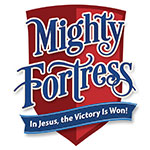 2017 VACATION BIBLE SCHOOL
PROGRAM ANNOUNCED!
Join us Monday July 24th through Friday July 28th
from 6:00p to 8:30p
"MIGHTY FORTRESS"
CLICK ON THIS LINK TO ACCESS STUDENT AND VOLUNTEER REGISTRATION FORMS FOR MIGHTY FORTRESS
This program is open to all children ages 4 through 6th grade. Teen and adult volunteers are always welcome!
Call the office at 732-363-0732 for more information.